The Ted Cruz Power of Palin – Sans Palin
GOP Establishment to Quake
Unique Quality to Bridge
GOP Wings
U.S. Texas Senator Ted Cruz (actually a member of our own Texas Senate District 15) announced his candidacy on March 23, to the shock and horror of the leftist punditry and even many Republicans.  Well, maybe not shock, but certainly horror.  Everyone we heard comment, from people we know, to major media talkers, spoke about how extreme and unlikely his candidacy is and will be – everyone except the most conservative talk show hosts.
Whatever one thinks of Senator Cruz's ideas and tactics, he is brighter than most, if not all of his likely GOP opponents.  He has made his GOP Congressional elders bend to his will, to their permanent bitter resentment.  He does not care.  He may not have to.
Mr. Cruz is a gifted speaker, as anyone who has heard him speak knows.  And he is unique in his ability to appeal to both the conservative religious wing of the party, and the libertarian side.  Several articles in the libertarian mouthpiece Reason have been coyly admiring of the senator, a medium not normally friendly to religious conservatives.
Low Poll Numbers - for Now
Despite his poll numbers being in the single digits when he announced on Monday, March 23, numbers far below those of frontrunners like former Florida Governor Jeb Bush and Indiana Governor Scott Walker, we expect that to change in short order.
Barring some damaging revelation currently not known (like a criminal charge or scandal), Mr. Cruz will likely be one of the top three Republican candidates for the 2016 race for the Republican nomination for president.
This is No Palin
Within the GOP, Ted Cruz has the star power of Sarah Palin, but without the baggage of her mind-numbing lack of erudition.
People forget that in the 2008 presidential election it was the Alaska governor, not the far more experienced, educated, and centrist U.S. Senator John McCain, that drew crowds to GOP rallies.  Ted Cruz has that drawing power, and he has it unfettered by the twangy clunkiness of the Palin mind.
As 2016 approaches, the horrified Republican establishment will be forced to reckon with Mr. Cruz to secure the critical conservative Christian votes needed for any Republican candidate to win the presidency in 2016.  They will come to realize that he will endanger any 2016 outcome for the Republicans that does not take Ted Cruz into account.  And, he will have the power to do so – that is, unless he slips, and exposes his hand too soon.
<![if !vml]>

<![endif]>
Editor's Post Script:
We implore our readers to remember that our forecasts are not to be taken as endorsements, or the opposite.
Ultrapolis World Forecast & Review
Ultrapolis Project – ultrapolisproject.com
832-782-7394
Editor: Marco A. Roberts
Copy Editor: Michael Alberts
Contributing Editors:
Mark Eastman
Mark Steele
contactproject@ultrapolisproject.com
Our forecast record cannot be beat.  One can follow the herd chasing the latest hyperbolic, melodramatic, and soon-forgotten micro-trend, or one can be wisely and judiciously in front of it with UWFR. 
<![if !vml]>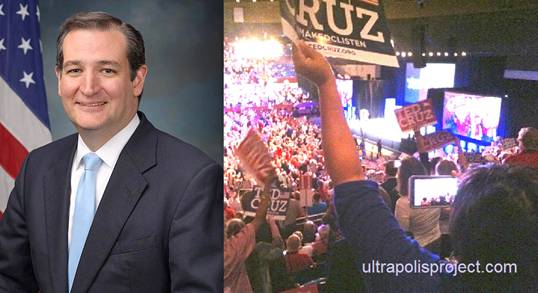 <![endif]>
Ted Cruz & Wild Support: The photo at the right was captured by our cameraman,
perhaps prophetically, at the 2014 Texas Republican State Convention. 
Ultrapolis Readers' Panel Votes & Comments

Panel Split on Rand Paul &

Jeb Bush 2016 Prospects

The three-person panel votes and comments on selected Ultrapolis forecasts.  One panel member is self-identified as leaning libertarian/conservative, one as liberal, and one as very conservative. The forecasts, and the panel votes can be viewed via the link below.

<![if !vml]><![endif]>

Below are the panel comments on the forecasts.

Jeb Bush in 2016 Forecast

The former Florida governor will not do as well as expected in 2016. (UWFR, 2-6-15)

Libertarian/Conservative

Vote: No. He'll do just fine. His father and (to a lesser degree) his brother are well respected in Republican circles. If he wins the Republican nomination, he will not be liked on the left because he's a Bush and because he's Republican although he's a fairly big government type of guy.

Liberal

Vote: Yes.  His complete lack of charisma won't work in a post-Obama world. He's got it made as governor of a state where he is "preaching to the choir" where conservative values are concerned and "old white-guy politicians" are still king. Outside Florida, he won't have much appeal with anyone. He isn't actual presidential material like H.W. was and he isn't a folksy buffoon like W., so I don't see much hope for him.

 

Very Conservative

Vote: Yes.  I do not expect him to do well.

Rand Paul in 2016 Forecast

The U.S. senator from Kentucky will not be a viable candidate at the top of the GOP ticket in 2016. (UWFR, 2-6-15)

Libertarian/Conservative

Vote: Yes.  Agreed: he will not be a viable candidate. Possibly seen as too extreme by both sides although he is liked by many young people on all sides of the spectrum.

Liberal

Vote: Yes.  If he decides to play the game and present himself as an uncompromising social conservative as well as a fiscal conservative, he could have more appeal across the various subgroups within the Republican party and gain some traction. Personally, I don't think this will happen.

Very Conservative

Vote: No.  I think he makes a more likely candidate than others.

<![if !vml]><![endif]>

Praising UWFR - Mostly

Obama Immigration Act

State of the New Republic

The Birdman Speaks

[Re: "Obama Acts on Immigration", UWFR 11/21/14] Thanks for helping an interested but not politically savvy person like me better understand this subject!

Kelly Brighi

Houston, Texas

[Re: "State of the New Republic & Worst Gay Power Couple", UWFR 2/6/15].   I often – nay, usually! - disagree with you, but this issue really said why I read you anyway: [sic] I have this morbid curiosity to know what the 'other side' is saying, and you let me satisfy it without having to reach for the nearest barf bag.  I guess that's saying something.

Michael Ewing

Trenton, New Jersey

I came across your issue, "State of the New Republic".   I loved it.  Good luck.

Sandra Fernandez

San Antonio, Texas

Your ["State of the New Republic"] column claims to aim to these high goals, but all you do is oppose anything Clinton and Obama do, and pass opinions as facts.  Your forecasts are all about GOP victories – but that is just a fantasy.  After all, Romney didn't win, did he?

Samuel Havel

Houston, Texas

Editor's Reply: For the record, we forecast an Obama victory in 2012.

[Re:  "Birdman Speaks to Who They Think We Are", UWFR 2/25/15]. Fabulous commentary, not only on a movie but on what we have become!

Karla Williams

Houston, Texas

I always look forward to these [UWFR] posts. It lets me peek into the right leaning camp without the Tea Party BS. As always - THANKS.

Ken Council

Houston, Texas

<![if !vml]><![endif]>

Comments may be directed to contactproject@ultrapolisproject.com, or if you receive the newsletter email, also via a reply to the email address from which you receive it. OR CLICK BELOW

<![if !supportMisalignedColumns]>
<![endif]>